What is NFOL, short for the National Feast of Lanterns, is the Club's national rally which takes place every year and is organised by members, for members.
It's a unique event where members can meet, and make, friends who share their passion for camping, all whilst enjoying great entertainment and the beautiful British countryside. It's a fabulous, long-standing, Club tradition and the largest rally of its kind for all forms of camping.
The lighting up event is a central part of the NFOL – it is the tradition that symbolises the word 'lanterns' in the rally's name. Members decorate their caravans, tents, awnings, motorhomes and trailer tents with a variety of bright lights to create colourful and atmospheric street scenes on the Saturday night. The competition is organised by the NFOL Committee on behalf of the Club, and as a fun family event, only light-hearted and appropriate displays are allowed. The NFOL also stages an annual themed Mardi Gras parade, plus a pennon parade where Regions, Special Interest Sections and DAs join together to show off their colours in the main arena prior to the closing ceremony.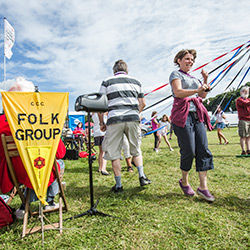 The theme for the 2017 event is 'A Day At The Races', members old and new will be bringing this to life in the traditional Mardi Gras parade and lighting up ceremony. We hope to see many members participating in and enjoying these wonderful Club traditions. Details of how to get involved will be available on the NFOL website very soon.
As always the NFOL will include live music, children's entertainment, a small trade area and most importantly the chance for friends old and new to come together and enjoy a traditional camping and caravanning weekend get together.
The 2017 National Feast of Lanterns is being organised by South Eastern Region over the August Bank Holiday weekend and is at Hickstead.